Shieldsville's Go To Bait & Fishing Tackle Shop
At Lake Country Convenience & Bait in Faribault, we are your go to shop when it comes to heading to the lake. We carry an abundant supply of quality live bait as well as brand-name tackle and marine supplies for both summer and winter fishing.
Seasonal Fishing Tackle
Live Bait (Minnows, Wax Worms, Leeches, Night Crawlers)
Resident & Out-of-State Fishing Licenses
Small & Large Game Hunting Licenses
Fishing & Hunting Regulation Books
DNR Large Game Registration Station
Snowmobile & Horse Trail Passes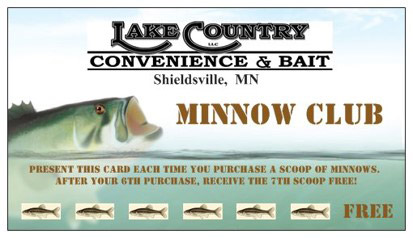 Running low on live bait?
Lost your proven fish catching lure?
No Worries!
At Lake Country Convenience & Bait we open at 5am - earlier than any other bait shop in the area - and offer all the fishing tackle you need to keep you out on the lake so you don't miss a single bite! We even offer a FREE convenient Minnow Punch Card - buy six scoops of minnows and the seventh scoop is FREE!!
Where Are Southern Minnesota's Fishing Hot Spots?
At Lake Country Convenience & Bait, we enjoy keeping up with the latest lake news and passing it along to area anglers. Stop in, fill your tank, grab a scoop of minnows, and pick up a few tidbits about the current fishing hot spots. From which lakes to try to the condition of the ice, we'll keep you posted on everything locally fishing related so you can make the most of your day.
Get the Fishing Report!